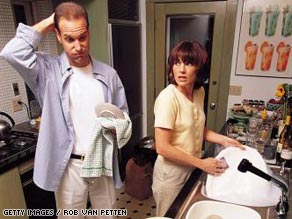 Came across a great article today on CNN discussing how household chores have a dramatic effect on relationships. Specifically, if the responsibility for household work was shared more equitably, it may lead to more intimacy and sex. According to the article, Men have doubled the amount of cleaning as compared to their fathers. In 1976, men did about six hours of cleaning/week; that has increased to about 13 hours in 2005. Women have decreased cleaning from 26 hours to 17 hours.
Story Highlights:
Expert: Women more likely to be intimate with husbands who help with housework

Research: Men are doing more housework — almost a third

Men do housework; women more satisfied with marriage, men less satisfied
Read the article here.
While any woman will tell you that having her partner clean the house is one of the sexiest things they can do, I was personally alarmed at the finding that Men that "pull their house cleaning weight" are less satisfied in their marriages!
With today's busy life, the perfect compromise just might be utilizing a house cleaning service. For less money than you might think, you can stop spending your spare time cleaning and instead focus on life priorities like your family, friends, tending to your hobbies and career.
We're a local Wellington, FL house cleaning service, serving the greater West Palm Beach area that's customer focused, detail oriented, and pet friendly. We have high standards, we are dependable, and reasonable hourly rates. Contact us Online now or call 561-855-8735.
Topics: House Cleaners, House Cleaning Service | Comments Off on Using a Cleaning Service Can Help Your Relationship
Refer This House Cleaning Post To a Friend
Comments are closed.